Important update 24 Jan 2020:
Since I wrote this blog, Santander has announced it'll be slashing the interest rate on its 123 account from 1.5% to 1% in May 2020. Read the 'Santander is now a dead duck' news story for full information.
Depressing news for savers. Santander 123, the bank account that's topped savings tables for over four years, will take a hammer to the interest it pays from 1 November. It comes on the back of this month's base rate cut of 0.25 of a percentage point from 0.5% to 0.25%, but it's slashing its rate far beyond that, cutting the headline interest from 3% to just 1.5%.
A cut was expected. Just three weeks ago I wrote my Is Santander 123 going to cut rates to 2% blog, but this obviously is bigger. It's a huge blow to many people's savings income. Santander 123 has been the one refuge for those with a decent amount of cash.
Contents of this blog:
Want to share this blog? The short link is mse.me/123cut
I'm sure many will be furious and want to ditch it to punish Santander. However, I'm going to ignore indignation and instead bash out an initial number-crunch on whether the account will still be worth it after the rate cut. If it is still the best payer for you, it's up to you to decide whether you want to cut off your nose to spite your face.
But before I get to that, my key message to existing Santander 123 customers who do well out of the account is this…

Don't close it in anger now. Wait to see how the land lies just before 1 November
This isn't just because you should grab the next three months of high interest. Unfortunately, it is likely Santander's just at the vanguard of rate cuts. Its main competition, the other high interest bank accounts – such as Club Lloyds, TSB and more – may well cut their rates too.
In November we'll get a fair and true picture of how it stacks up against the rest of the market. For some larger savers, depressingly, even at just 1.5% it will still be the best payer. I will redo this blog then based on the details at the time; ensure you get my weekly email which will include reminder updates.
PS: Some may know I'm off work on sabbatical this August. I've broken it just for this blog. Via this site and elsewhere I've been a strong advocate of Santander 123 and 100,000s or more have got it and gained on the back of that. So I wanted to do the numbers & analysis personally. After this I'm straight back to family time.
What will happen to the Santander 123 bank account on 1 November?
The only change happening in November is its interest rate. Its other features will remain as now. It's worth remembering that when it launched Santander 123 was highly innovative with a range of features others have copied. So here's how it will work:
THE BIG CHANGE: High interest on up to £20,000 (or £60,000 for a couple). While other top bank accounts pay higher rates of interest, some up to 5%, they only do this on a maximum £5,000 in them (some far lower than that). The big sell of Santander has been that you can save far more at the top rate. Currently the interest works like this:

– If you've under £1,000 in it, you don't earn interest.
– If you've £1,000 to £1,999 you earn 1% interest on the entire amount.
– If you've £2,000 to £2,999 you earn 2% interest on the entire amount.
– If you've £3,000 to £20,000 you earn 3% interest on the entire amount.

From 1 November, everyone will earn 1.5% FLAT interest on all amounts from £1 up to £20,000. The rate cut impact will be huge. Currently with the full £20,000 in you'll earn about £600 interest a year; from 1 November it's £300. Plus many have been using its rule that you and your partner can put £20,000 in an account each and then have a joint account – so that's up to £60,000 shared as a couple. In that case the roughly £1,800 interest is dropping to £900.NB: I suspect it's restructured the interest this way, so it can argue "there are some winners and some losers" as all those with under £2,000 in it gain from this change. However, the big sell of this account is for larger savers. Anyone with less than £2,000 would've always been better off elsewhere anyway.
NO CHANGE: Cashback on bills paid via the account. This can be a substantial amount: a fair proportion of people earn over £500 a year from it. It pays…

– 1% on water, council tax and Santander mortgage payments (up to £10/month on the mortgage).
– 2% on gas, electricity and Santander home insurance.
– 3% on phone, broadband, mobile and TV.

But this only works if this is the account you pay all your bills from – so shift them to here. If you don't pay bills (eg, parents do or partner does) and it's not appropriate for them to be paid from your account, it's far less attractive.NB: I'm not surprised it's left the cashback unchanged, after all this is the Santander '123' account, and by retaining the cashback structure it doesn't have to change its name, as while the interest element no longer fits the 123 branding, the cashback still does.
NO CHANGE: There is a £5/month fee. This account has always had a fee. It was originally £2/mth but then to many people's annoyance, last January that increased to £5/mth. It lost a decent chunk of customers due to that (and I'm sure the same will happen this November). However, even with the fee, for many with £5,000+ saved in it, this account still paid more than anything else.
BIG CHANGE: Overdraft costs to rise. I've written this blog mainly for savers. Yet if you have an overdraft, changes are coming too. Frankly, I hope this is irrelevant for most readers as Santander 123 has never been a good account if you go overdrawn. The change here is later – it takes place on 9 January 2017. All customers currently pay £1 a day if in an arranged overdraft; that will change to:

– £1,000-£1,999.99 overdrawn. Fee will remain at £1 per day
– £2,000-£2,999.99 overdrawn. Fee rises to £2 per day
– £3,000+ overdrawn. Fee rises to £3 per day

As now, there is a £12 overdraft buffer, so you won't pay the daily fee if you're within that. The £95 per month overdraft cap also remains in place, though that's hardly something to cheer as you could still be faced with £1,000+ in fees every year. These costs are far from cheap. Anyone regularly overdrawn should not be with Santander 123 – see our Cut Overdraft Costs help for more.NB: Do note the new '123' arrangement of these overdraft fees. This conveniently gives Santander a second element structured this way, to replace the lost '123' of in-credit interest. It doesn't look great for those overdrawn to see such massive price rises, possibly just to justify its marketing.
Of course, to access the account, like most bank accounts, you'll need pass a credit check and meet its terms, which is to put in £500/mth (though you can then withdraw it the next day) and have two direct debits set up – more on that in top bank accounts.
How good is it currently, with 3% interest?
For full analysis on this see my old Is Santander 123 worth the £5/month fee? blog. Here's just a brief summary…
For most people the cashback at least covers the fee and often more, and the interest rate it pays smacks the pants off everything else at larger values. So it's an easy winner. With the full £20,000 in and decent cashback you could expect to get £700 a year from it. The same in top normal savings would pay £230.
Even if you didn't earn any cashback (plausible for couples with three 123 accounts, as two of those mightn't have big bills coming out of them), for basic-rate taxpayers it still beats everything else if you've got over roughly £8,000 in it.
This graphic shows how it works – 'keep' shows where it beats every other account, 'ditch' where other accounts beat it. The graphic's a little inaccurate for savings below £4,000 as then other factors like cashback and free cash bonuses come into play, but it gives the general idea.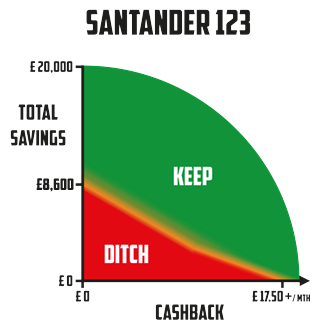 Should I ditch Santander 123 once its rate drops to 1.5%?
Let's start doing some numbers. Below is a chart of how the interest earnt in Santander 123 compares with some other top current savings products.
How Santander 123 compares with other top easy-access savings
Account

On £5,000

On £10,000

On £13,200
On £15,000

On £20,000

Santander 123 at 1.5% (before £60 fee) (1)
£75
£150
£198
£225
£298
Santander 123 at 1.5% (after £60 fee)
£15
£90
£138
£165
£238
Top Bank Acc: Club Lloyds at 4% (2)
£197
£197
£197
£197
£197
Top cash ISA: Virgin Money at 1.16%
£58
£116
£153
£174
£232 (3)
Top normal savings: Virgin Money savings at 1.16%
£58
£116
£153
£174
£232
Santander 123 is the only account here with a fee. (1) Applicable for those for whom the cashback cancels out the fee. (2) Only pays 4% if you've over £4,000 in it, and it only pays it on the first £5,000 so for amounts above that you don't get interest. (3) Money would need to have accumulated in more than one tax year.
The table above paints an interesting picture. Even after the rate cut, Santander 123 is still a winner for some larger savers. And do remember, this chart is based on current rates. Neither the Club Lloyds nor the Virgin Money account has yet reacted to the UK rate cut and may well do so. And other rates are being cut all over the place.
While of course anything can happen, my suspicion is by November, the comparator accounts will be far weaker than I've shown here. What I would like to do is a similar chart showing when you should stick and ditch – but that's pointless right now, with so much changing. I will do it in my November blog though, which is when you should be making the decision.
However the factors that will affect whether you should ditch or stick (or even open a new one) are apparent already…
How much cashback you earn. In our past polls of Santander 123 customers roughly two-thirds earn cashback that matches or beats the £5 a month fee. In that case even at 1.5% Santander is still a winner for those with larger savings. As the table shows, if you earnt exactly £5/mth cashback, you'd need £13,200 of savings for it to pay more than Club Lloyds at today's rates. If you earn more – as many do – then it's still worth keeping money in there. Here's a chart showing how much cashback people tend to earn annually – obviously £60 covers the fee.


The amount of savings you keep in it. The more you have, the relatively better this rate is, as 1.5% is better than other easy-access savings are paying on larger amounts. For smaller savings though, while the other top savings bank accounts may well drop interest too, I doubt it'll be by as much.

My guesstimate right now is you'll need getting on for £10,000 plus before Santander 123 is the top option (unless you've a Santander mortgage when the cashback it pays means if you've far smaller savings, it still wins) but I'll do exact numbers in November.
Your tax situation. All the calculations above assume you don't pay tax on the interest – that's because since the introduction of the new personal savings allowance in April, 95% of people don't.

To pay tax you need to earn over £1,000 savings interest as a basic 20% rate taxpayer, £500 as a higher 40% rate taxpayer. If you earn over £150,000 a year and are a top-rate taxpayer you don't get a personal savings allowance so all your interest is taxed.

After the rate cut, even the maximum in Santander 123 won't earn enough to fill a higher-rate taxpayer's allowance, so you'd still be a non-taxpayer. Yet for anyone whose interest is taxed, especially at the higher rate, then Santander 123 is far less appealing compared with top cash ISAs which are always tax-free.
The need for certainty. Most standard easy-access accounts are a 'variable rate', meaning they can and do move both with the UK base rate and at providers' whims. Santander 123 is a variable rate too, as this cut shows.

However, it's likely this cut isn't just happening because of the recent UK base rate move. The Bank of England is strongly signalling the rate of interest will continue to drop after that, possibly down to 0.1% or even 0% (let's hope we don't get negative interest rates as they have in Sweden or Japan).

Santander has been reluctant to change the 123 rates too often, unlike a normal savings account. So it has probably taken a hedge on the future direction of travel, gone lower than was predicted, so it doesn't have to move again, and savers will pay for that.

Yet that does hopefully mean if the base rate drops slightly further, unlike normal savings accounts, the high interest bank accounts won't change too often.
Is there anyone who should definitely consider ditching Santander?
The obvious first answer is anyone who shouldn't have it right now. The chart in the 'how good is it currently' section gives a pretty good idea of that. And certainly for people who should ditch now, it won't be getting any better. So get on with it.
For those who have Santander 123 as they earn substantial cashback (eg, Santander mortgage holders) without larger savings, check out the new Santander 123 Lite. It pays no interest, but for a £1 monthly fee, gives the same cashback. You need £3,000 of savings to make it worth paying the extra fee for the main 123 account rather than the Lite (at current interest rates). To see how that stacks up, see our Is Santander 123 Lite worth it? analysis.
For others just wanting cashback, the NatWest account is worth a look too, as is TSB due to its other boons.
Plus one final thought: rates are dropping all the time. If you're willing to lock your cash away without access, those who don't make much cashback may want to look at top fix rates now – as the likelihood is (again no guarantees) the rates you can fix at will continue to drop too.
Other than that, time will tell in November exactly how good or bad this can be.
Santander 123 has been a superb account for many, earning them far more than elsewhere. For a bank that once languished at the bottom of the customer service tables, it has become a prized asset, putting it near the top.
For some though, that ride will end in November. For others it'll still be the best account, but I doubt anyone will be raving about it then in the same way.