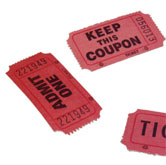 On Saturday night, Mrs MSE had bought us tickets to Legally Blonde in London's West End. A perfect combination as she loves musicals and I'm a Sheridan Smith fan (who doesn't love Two pints of lager and a packet of crisps?)…

Update May 2010. Thank you to the legally blond staff

Mrs MSE has now heard back from the legally blond team and they are arranging for us to go again on a different night. I'd like to thank them for the care and courtesy after the event, which has been great. My worry at the time was no one could assure us things would be sorted, I'm glad to see it has.

Unfortunately the evening was a nightmare: we ended up not seeing the show due to the appalling customer service at the Savoy Court Theatre. So I thought I'd have a wee personal whinge on here – here's the catalogue of issues…
Frustrating but not critical. Was Sheridan Smith on or not?

She's on the brochure and pictured at the theatre – the face of the performance, but in the morning we read in the paper she was off on holiday.

While I understand sometimes understudies perform in the theatre and there's no legal right if it's changed – when that change is a scheduled holiday rather than due to illness, I would always suggest there's a moral obligation to inform the audience beforehand so there's consumer choice.

Of course its possible Sheridan was on – as explained below we never actually saw the performance (update: though I note from the forum others have had a similar experience)

Mrs MSE only booked the tickets a week before, on none of the booking pages is there a mention of her absence (if it's there somewhere apologies, but I haven't spotted it – again of course this depends if she was actually on.)

Annoying and less than expected. High prices for back-aching seats.

Even though we suspected Sheridan wasn't on – we were still reasonably happy to go ahead. We had mid-price tickets, so were surprised to be pinioned at the very back row of the dress circle.

If the restricted view wasn't bad enough, while most seats up there are pretty tight with little leg room – here the seat back is butted up against a wall.

That means the normal give if you lean back on them is absent; to me it felt like being pushed to lean forward, and as I've back problems anyway within a couple of minutes I had a back ache. In my eyes it's questionable whether these seats were truly fit for purpose (see the sad fart rules).

Poor Communication. Upgrading the seats meant we couldn't watch the first two songs.

As I was so uncomfortable, in a packed theatre, we decided to make the best of it and pay to upgrade. Mrs MSE nipped off to do that while I looked after our things. At this point, having paid even more, the usher then came to move us out of the seats. We went immediately to walk down the the stalls.

Yet having beckoned us out, the doors were closed behind and she said "sorry, the play has now started, so you won't be able to go in until after the first two songs."

Now at this point, I'm furious, as no one had mentioned that by leaving the theatre to change seats we'd miss the first two songs. We could've moved after a point, or they could've rushed us through, yet we were taken out and left in a corridor as a fait accompli.
The worst bit of all. Nobody at the theatre has decision-making autonomy.
All of the above could be forgiven – if someone were there to try and help and sort it out – yet in this theatre which I'd guess holds a good 800 people per performance they leave you to gamble on your consumer rights.
I'd decided enough was enough and asked for a refund or a ticket exchange for another night – the usher went for an assistant manager – who arrived to say
"you'll need the manager"
meanwhile the play continues and we're still in a corridor.
When the 'manageress' arrived and I explained the situation (and argued a potential breach of statutory rights) she simply said:
"I'm sorry I don't have the authority to give you a refund or exchange, you'll need to write to the producers."
Thus we're left with a no-win – either return to the theatre having missed now a good chunk of the show or risk the theatre company simply rejecting our argument (and the only option after that would be trying a legal push at the small claims court – always the problem with enforcing consumer rights).
We're in the fortunate financial position that we can afford to take the risk of it not working out, but how many people are left risking the financial lurch by this corporate decision to force people into a gamble? The owners of the theatre need to step up to the plate and put someone in place who can actually help when people have problems.
We will now diligently post off our tickets with an explanation – I pushed the 'manageress' into noting down what'd happened on the back of a card so there's some contemporaneous record of it.
I deliberately avoided using the 'press' card or any such like – I don't think she recognised me, though one of the ushers actually came up to me as they were passing and we were waiting for her to say they loved the site.
It'll be interesting to see how it's handled.